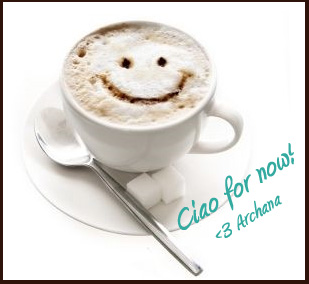 I've never been a fan of the age old "
I don't have the time
" excuse, but I'm going to have to be a hypocrite and use it myself. I seriously haven't had the time to give blogging any attention, be it posting or reading my favorite blogs. There a 1001 exciting developments in my life that are taking me on paths that involve
less virtual time & more real time.
All things that bring a big, big smile to my face. :)
This isn't goodbye to blogging, but more like a looong vacation from it. At first I thought I'd be back before '10 rolled in, but with the way my schedule has been shaping up, doubt that's happening. Hopefully I will get DS back up & running - - maybe with a new look or different content, but until then...to all the

bloggers that have frequented DS:

thank you for all the support & wonderful comments dotted through my history of posts. You guys made my short term blogging experience absolutely addicting. :)


. . .Walk down memory lane. . .
(I've taken down my posts, will re-publish them if & when I'm back)
6/24/09 - - - 11/12/09
New York - Bollywood's Baby
Hit the Shuffle
Game,Set, Match!
Make-Up 24/7?
Bromance anyone?
Tag, You're IT!
I'm a Celebrity
Alpha, Beta, Omega?
Beat the Heat!
Unpacked Reflections
Liar, Liar!
Be a Better Woman ;)
My 5 Five's
Be the Life of Your Party!
Ray of Sunshine
5 sure-fire signs that...
Mmm delish 1.0
Uncanny Resemblances
Unaccustomed Earth
Lousy Proposals Decoded
Date Food No-No's
All tags began somewhere, right?
Why don't you get the point?
Retail Therapy, anyone?
And the award goes to...
Did your stylist resign?
What's in your bag?
Be a Better Friend :)
Hot or Not?
BeBackLater
BackInAction
Travel Right aka Light
Zodiac(s) Grilled!
Put the bun down ;)
Why KJ should hire me :)
Put Your Best Face Forward
L.O.V.E of the appreciation kind
Hello..anyone out there?
And most importantly, to all the blogs I love frequenting as well as blogger buds, keep up the great writing & have a

fantastic

Christmas

&

New

Year

celebration

filled with lots of love, laughter & happiness! Hope to see you still blogging when I'm back on the circuit, heh, take care!

<3 Archana